Having moved to Daejeon, South Korea six months ago I have decided to do the honourable thing and support my local team. Even if that does mean its Daejeon Citizens.
Football, or Soccer is huge in Korea. Stand next to any young lad for more than 30 seconds and to go along with the usual cries of 'hello! How are you?' they'll soon start realing off the names of Messi, Ronaldo, Rooney, Drogba and of course Park Ji-Sung along with their favourite team in each league.
The 2002 world cup saw not only a hugely succesful and popular National side but has left a passion for football that seems to be growing. (Incidently that team are still adored and there have been calls for the KFA to beg Hiddink to return following the recent opening for a new national coach).
Though the encyclopedic knowledge of the EPL, Serie A and La liga doesnt extend to the national league, the K-League. Theres constant football highlights on TV but this doesnt include the K-League and there is no equivalant of Match of the day here.
Finding coverage about the league in English can be quite difficult. Over the coming season I'm going to try and plug a tiny tiny part of that gap.
This season I'm a Daejeon Citizen fan, part of the purple army.
The K-league kicks off on March 4th and is contested by 16 teams. However at the end of this season 4 teams will suffer relegation for the first time, reducing the league to 12 teams and trying to stimulate a more competitive league next year as well as improving the 2nd tier. (AMMENDMENT: Following on from the helpful comment form 'Mike' below I see they have changed the rules again! Now 2 teams will be relegated one of which has already been assigned to Sangju FC the military side leaving only one relegation spot)
It operates in a similar fashion to the Scottish premier leage, splitting in 2 towards the end of the season, with the champions being decided by a 6 team playoff system.
The current champions are Jeonbuk Hyundai Motors, who have won 2 out of the last 3 championships. Their manager has just been appointed the new national coach but they have last seasons run away winner of the player of the season award in former Middlesbrough attacker Lee Dong Gook.
As you can see from their name, corporate sponsorship plays a huge part in funding the K-league sides and also applies to all othe profesional sports here. Unfortunatly Daejeon citizens are possibly the only side in the league without such backing and rely on the local council for funding along with player sales.
A lot of transfers that take place within the K-league happen in a similar way to the American style, with player swaps rather than large sums changing hands, and theres also a draft pick in place for players leaving University. For players coming from abroad fees are paid but most of the time these players have recently become free agents and then move to Korea.
Where as in the early days of the J-league and MLS many foreign big names moved there for one last pay day and some adulation, the foreign players plying their trade in the K-League are hardly household names. Most have bounced around the globe never staying with any club too long and now find themselves in South Korea.
There are however a few stand out players
Dejan Damjanovic
Mauricio Molina
(He's quite the bargain on football manager.)
Eninho
Derek Asamoah
Eddy Bosnar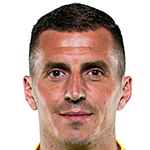 A controversial defender whos probably most famous for not being capped by Australia after falling out with several coaches and some badly timed decisions. He has just signed with Suwon Bluewings towards the end of a career that boasts spells at Everton (0 appearances however), over 50 games for Strum Graz, and spells in Holland, Croatia and 3 succesful years in Japan. He sees this as his last chance to earn that illusive Australia cap.
Dženan Radončić
Daejeon citizens face up to a season competing against these clubs with very little in the way of money and no history of succes. The bigger goal for Daejeon may be surviving the first ever K-league relagation battle, having finished 15th out of 16 last season, the same would be a terrible blow for the club. They hold last seasons record for longest winless streak (5 draws and 9 losses) and usually find themselves playing in their huge world cup relic stadium with a capacity of 44,000, with an average of 12k fans a game.
Ive picked out 4 players who may well hold the key to the Citizens season.
Leonardo Ferreira
Kevin Oris
Yuta Baba
Lee Hyun-Woong
Kim Tae-Yeon
It looks like a tough season may be waiting for us, but that hasn't done anything to alter my excitment. Hopefully I'll be able to bring some good news or at least some interesting information over the coming season regarding the Purple Army. Roll on March 4th. Come on you Citizens!